These colourful bowls of cool fruit purees topped with fresh, vibrant, tasty fruit pieces always remind me of Hawaii. To me, it perfectly depicts the beautiful weather, the gorgeous sunrises and sunsets, and the relaxed feel of Hawaii. (Started this post in June and finishing it in November, I am terrible?.)
---
Haleiwa Bowls (Oahu)
This was a cute shop set up on the side of the streets on the North Shore side of the island. There are parking spots behind the store, the big parking lot beside it is actually for the Haleiwa Joe's right across the street.
We had a visit from a frequent local who wanted to share as well?. I had the small Blue Majik Bowl that consisted of a base of banana, pineapple and blue spirulina puree topped with blueberries, strawberries, kiwis, bee pollen, honey and granola. To me, it was a piece of art. So pretty! AND it was so deliciously refreshing to eat too.
B had the large Mana Acai Bowl, which was a classic acai puree topped with banana, granola and honey. B opted out of the coconut flakes. He enjoyed his as well, only complaint was too much granola and not enough of the acai puree. From the side it looked as if it was half acai puree half granola. But in reality, it was 3/4 granola tucked in the centre of the bowl and 1/4 of acai puree spread along the bottom. Slightly deceiving?.
Haleiwa Bowls
66-030 Kamehameha Hwy, Haleiwa, Hawaii
Mana Acai Bowl (L) – $11 USD
Blue Majik Bowl (S) – $10 USD
---
Paia Bowls (Maui)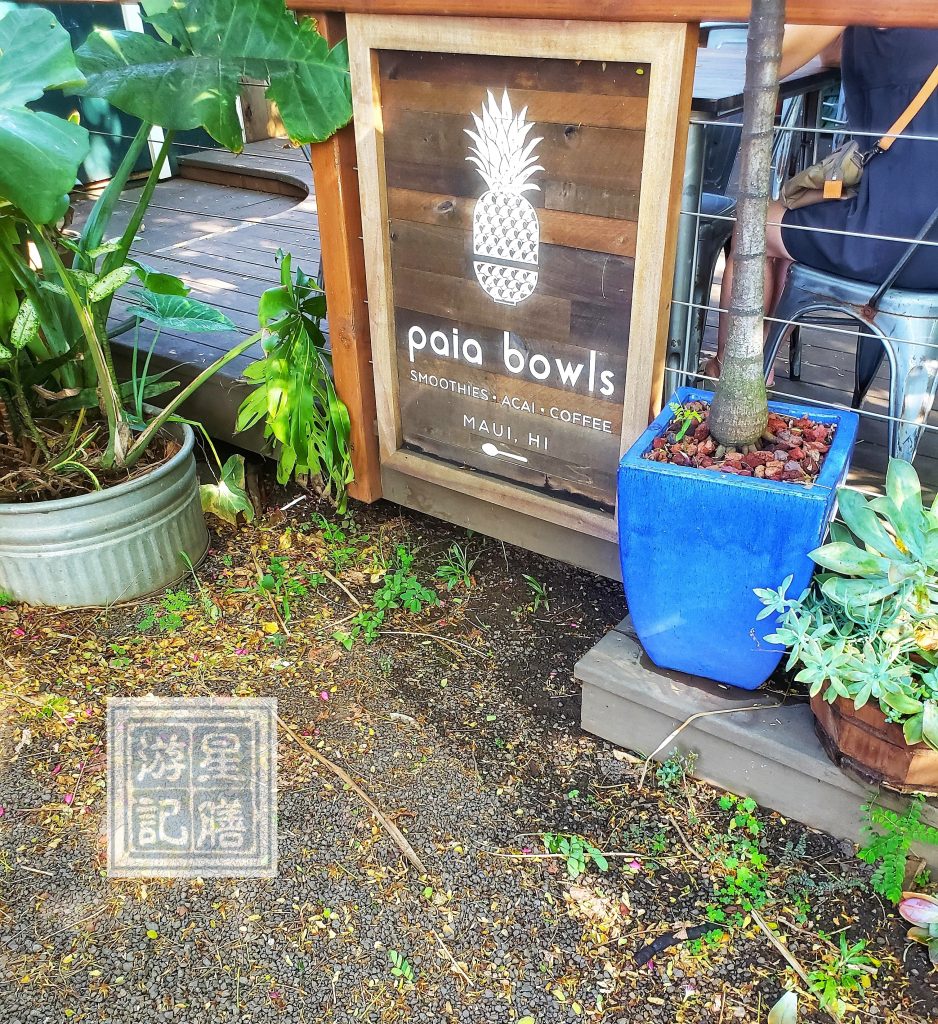 Very tiny acai bowl stop tucked away in the little town of Paia. There was maybe 2-3 parking spots along the fence.
We ordered the bowls to-go as we weren't able to find a parking spot nearby.
I found my Blue Majik Bowl to be very similar to the one I had in Haleiwa. In fact, they are identical in their listed toppings and ingredients. Nevertheless, I enjoyed my bowl of super antioxidants?.
To me, Paia Bowls and Haleiwa Bowls are both on the same level in terms of deliciousness and freshness. Both are great choices for acai or fruit bowls.
Paia Bowls
43 Hana Hwy, Paia, Hawaii
Acai Surf Bowl (L) – $11 USD
Blue Majik Bowl (S) – $12 USD
---
Basik Cafe (Kona)
Went to this Basik Cafe during my last Hawaii trip. Loved their acai bowls so much that we went back a second time during our few days there. Their acai bowls have higher proportions of the acai puree compared to all the other acai bowls that we had tried. Definitely recommend, if you ever go to Kona? on Island of Hawaii.
Basik Cafe
75-5831 Kahakai Rd, Kailua-Kona, Hawaii