One day, we decided we wanted to be cool just like the locals, so we chose to head up towards North Shore, where all the pro-surfers supposedly hung out. Our first stop of the day was obviously for breakfast and my friend picked out Kono's (Haleiwa location) on 67-250 Kamehameha Hwy, in North Shore Marketplace. We had much laugh about the address on our drive up, because of the way the GPS lady said it and how it reminded us of the good old Dragon Ball Z's 'Kamehameha' move. We were curious of what it meant, turned out it was the name of the founder and first ruler of the Kingdom of Hawaii.
Their menu was crammed on to a black chalkboard on the wall, so many choices that we were all stunned at first. Luckily, the server was super friendly and helped us out with the ordering. She said they were known for their bombers or the pork plate lunch.
I ordered the Haleiwa bomber (12-hr slow-roasted pulled Kalua pig) and my boyfriend got the Chuns bomber (12-hr slow-roasted pulled Kalua pig with bacon). The bombers are served with some salsa on the side, but I think this picture did not do the bombers justice, because they were bigger than they appeared in the picture and were totally stuffed.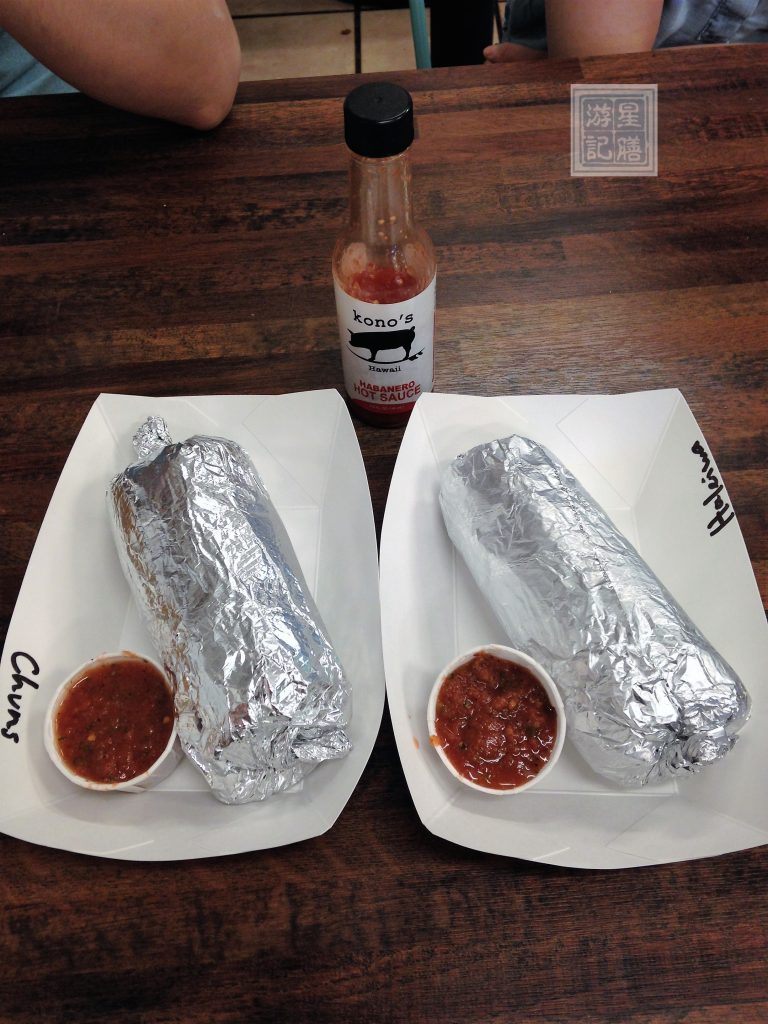 Their bombers were essentially $9USD breakfast burritos with scrambled eggs, potatoes, cheese and your selected fillings, with extra cost for any add-ons. I added jalapenos because I always like that kick. These were nothing like those tiny, partially filled fast-food chain breakfast burritos, these were jam-packed with breakfast goodness! I was quite stuffed after just one bomber, and let me tell you – my stomach ain't small?.
The pulled pork was juicy, flavourful and blended very well with the eggs and potatoes. Their salsa was also delicious and their hot sauce had quite the punch, I loved both on my hot bomber.
If you chose to eat outside, you may be able to enjoy your food in the company of many Hawaiian roosters and hens?.