French cuisine is known to be fancy, sophisticated and exquisite.
A great way to experience that would be through a Michelin rated restaurant?.
There were a few Michelin rated restaurants that I looked at, but I zeroed it down to Septime's lunch tasting menu, by its reviews, pictures and price.

As you enter the store, there are heavy thick curtains that keep out the cold wintry air (we went in January). I did not make a reservation because I wasn't sure if we would make it on schedule. We arrived around 1 ish, the store was packed. They said they didn't have any open seats except the bar table, so we took those seats on the most right corner of the store beside the door. Although we would catch the cold breeze whenever someone entered the store, I think we were still lucky! Because I later read on the internet that people had to reserve weeks ahead?.
We were started with a warm salty ginger and herbs drink to take the chill off. The only herb I remember was rosemary. This was not my cup of tea, so B finished mine as well?.
This was the first plate in our 4 step tasting menu. All I can name is the leek. Gah! The servers did list off all the ingredients when they presented the dish, I wish I had taken better notes. But boy, the leek's sweetness and pungency blended so well with the sauce and other bits on the plate. I was amazed when I took my first bite, because I never thought leek could be prepared this way or tasted like such. You really have to try it out first hand!
The second plate was cuttlefish in some kind of pork butter. It was not as greasy as I imagined. It was so delicious, that, even a non-seafood fan such as B, finished the plate when he thought he might not like it.
The third step had two options, fish or meat. I got the cod with bok choy in yuzu and watercress sauce. Ha, I was surprised I recalled this one. Fish was tender and every ingredient played their roles perfectly.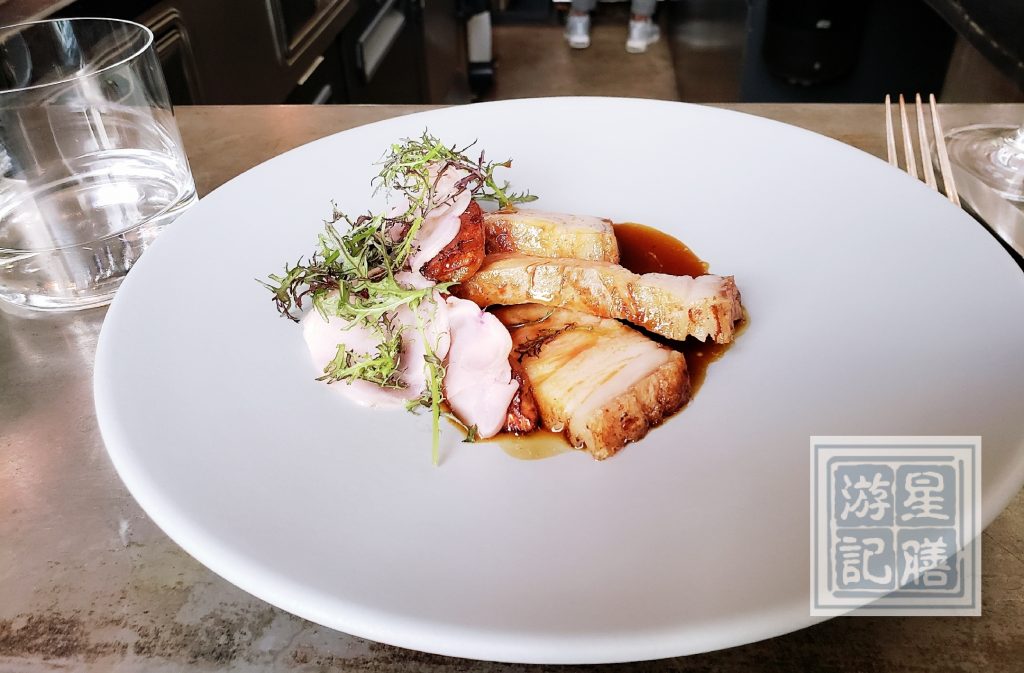 B chose the pork belly with pickled turnip. The caramelized pork belly was rich in flavour and texture, right up his alley.
The tasting menu ended with mango sorbet with mandarin and fried bean curds on top of some creamy mango puree? I know, I am a terrible food blogger?, but I AM an ultra-enthusiastic food lover. The dessert was refreshing and ended our meal on a stunning note.
Neither B or I like wine, so the waiter recommended their artisanal lemonade and fresh fruit smoothie. B had their peach and lavender smoothie, and I opted for the lemonade. It was the best lemonade I have had so far and my favourite to date. Not too sweet and bubbly
?. I will see to getting it in Canada some how.
I absolutely loved every single dish! The recipes were amazingly creative, the ingredients were high quality, the presentations were artistic, and the execution was flawless. Each plate was full of substance and a gastronomic pleasure to devour. Staffs were super friendly and spoke English if you don't know French. Service was tremendous. I will definitely reserve next time I visit Paris, because this restaurant is a MUST for all foodies!
*Side note, they have a gorgeous garden in the back. You can see it on the way to their washroom. I suspect they might even grow their own vegetables?.
Septime
80 Rue de Charonne, 75011 Paris
Spring lunch tasting menu – 42 euro per person
Fruit smoothie/lemonade – 4 euro