This pastry shop is located near a popular tourist attractions like Jeronimos Monastery and beautiful parks, so it is a great place grab some snacks in between your strolls.
Side story: We have encountered this a few times in Portugal. Someone will appear to be helping you park your car, whether it was directing you while you back up the car, or just standing in a parking spot and telling you he saved you a spot. Once you park the car, the person will proceed to ask you for money. The first time it happened, the guy asked for 1 euro, and my friend gave a 20 euro cent. The guy left quickly without even taking a peak at the money. The second time, we did not give anything, the guy cursed and left angry. To be fair, we found the parking spots on our own both times and they just appeared as we were parking, so I do not think we owe them anything. This must be a common tourist scam or something.
As you can see, the long outside the shop was super long. Normally, I would have blindly went to the end of the line and just waited. Since there were 4 of us, we decided to split up the tasks. One person waited at the queue outside, the others scattered into the shop. So, it turned out there were a few lines. The line wrapped around the outside of the shop was for takeout orders. If you step in, you might get lost as it is quite a maze inside with many turns and hallways.
Down one of the hall, there was a view of the kitchen. I love watching people cook ?. Anyways, there was another 2 lines inside for indoor seating. We picked a shorter one and waited for maybe 30 minutes.
The tables were small and tight. The ceramic tiled walls were signature of Portugal decor. It was packed inside and the waiters seemed overwhelmed.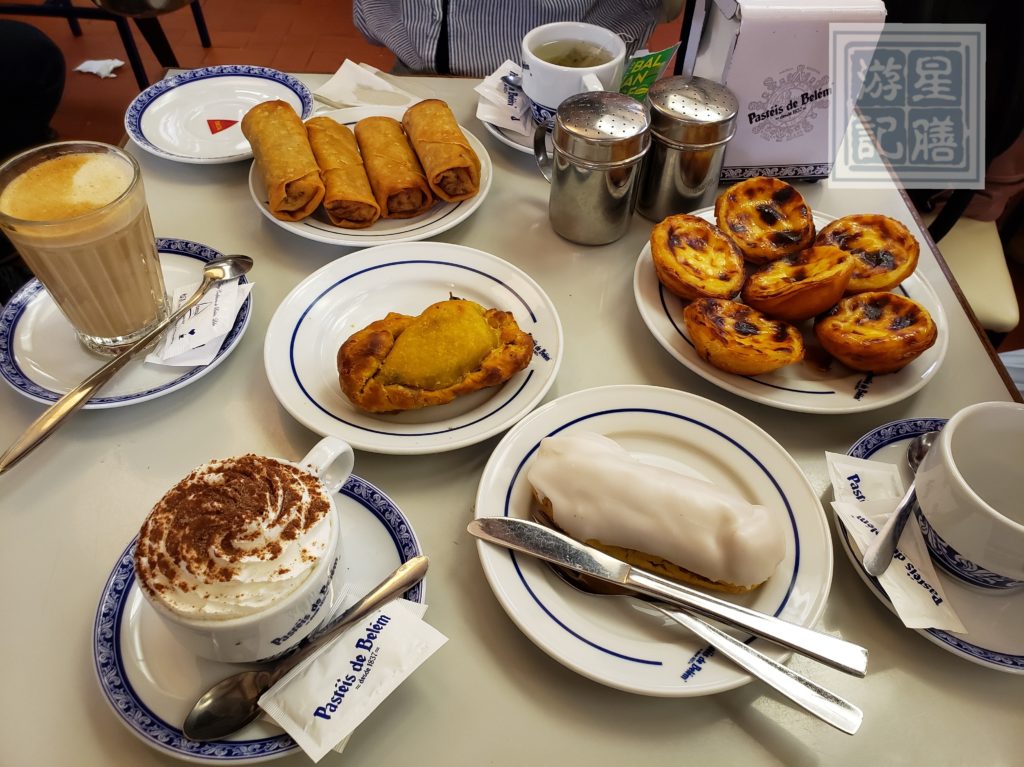 We ordered 4 vegetable crepes, which tasted like spring rolls, pretty good. My eclair was so so, kind of dry and too sweet. Apparently, the duck and spinach pie was not bad.
The Portuguese egg tarts were incredible! I guess that would make sense because they are known for the egg tarts. These warm egg tarts have layered, crisp, fluffy shells filled with rich egg custard. The custard was not overly heavy or sweet. Also, you can sprinkle cinnamon powder and sugar powder over your egg tarts to enhance the taste.
Verdict: Would totally go back! Mostly for the egg tarts. May just order takeout and enjoy it in the parks if the weather permitted.
Pasteis de Belem
R. de Belém 84 92, 1300-085 Lisboa, Portugal
Crepe legumes (vegetable crepes) – 1.35 euro each
Eclair – 1.50 euro
Empada de pato e espinafres (duck and spinach pie) – 1.90 euro each
Espresso with foamed milk – 1.30 euro
Green tea – 1.55 euro
Cappuccino – 2.40 euro
Pasteis Belem (egg tart) – 1.15 euro each